One of the many things we wanted for our house was a beautiful built-in tansu-style bookcase for the living room. This was our inspiration: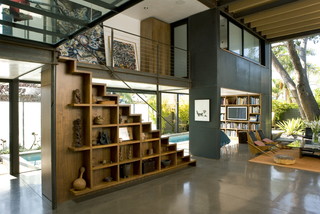 Unfortunately, we ran out of money in phase 1 of the renovation and so we couldn't do that. And it was gonna cost a huge amount of money. So we looked into other possibilities and didn't find anything that really satisfied.
However, once we moved ourselves out of the bookcase box we'd fall into, we realized that anything could go in that spot. What we ended up doing, was buying a single triple rise garden for the space from Rise Gardens.
We love hydroponic gardening and have enjoyed our Aerogarden. Aerogardens are great for growing tomatoes and lettuce and a variety of other things. However, once you get them going, they are not as attractive as I'd like. We've had our Aerogardens since early 2020 and a few of them look pretty bad from the combination of our hard water and the effects of aggressive tomatoes.
We thought the Rise Garden would match our decor perfectly and because of the way it is built, we think it is less likely to fall apart in the long-term. We considered getting three Rise Gardens in a stair step fashion, sort of like the tansu above. But Steve, who is always practical and considers all the angles, said "No. Let's just get one. Let's see how it works."
Fortunately for us it was Christmas season and Rise Gardens were on sale for half off. So we splurged and that's what we bought. It arrived in December and took us about two hours to set up. Most of that time was spent trying to figure out how it was supposed to work and why wasn't it working for us?
As it turned out the problem wasn't the Rise Garden.  In our crazy house, the floor is tilted, and so we had to adjust the garden so that the water would flow correctly. Once we moved the garden forward to the less sloped part of the floor and added a few tabs to the feet, it worked.
The little boxes on the second shelf are the plant nurseries. It takes about a week for them to germinate and be ready to plant in the garden. Here is our Rise Garden in January after we'd planted all the plants in those little boxes. You can see the Aerogarden nearby.
When we returned we found a beautiful little cauliflower just waiting for us to stir-fry it. It was delicious: fresh, juicy, and sweeter than store-bought cauliflower.
The Rise Garden has been a delight. It looks beautiful and it's constantly producing lettuce and other vegetables for salads and stir-fry. We love it and are on the look out for sales so that we can buy two more gardens. The hardest part was putting it together. The Rise Garden has an app that pings me when it needs more water or if I need to add nutrients. It lets me know when plants are ready for harvest or need to be pruned. It's really quite nice.
Writing News
I'm back on track and working on a longer story. It is a SF Mystery that is a lot of fun so far.
Steve and I are finishing up two Cthulhu adventures that we'll be publishing on DrivethruRPG: Champagne Chills and Time's Prisoners: A Regency Chtulhu adventure. We expect to finish these up next month.
I hope things are growing in your creative lives. Be well, friends!